Monday, 05 April 2010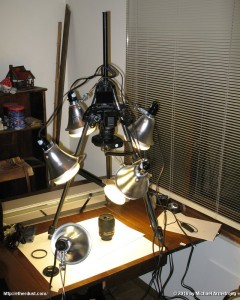 For some reason I got it in my head that this might be a good idea.
It's for an upcoming project that I'll explain later.
Looking at the results, as well as this setup, I think there's a better way. Probably not any less mad, but somehow better.
Thursday, 28 May 2009
JPG Magazine went away for a while, but now they're back. It's a bit late in the submission process for issue 21, but I put one up anyway: Bentendo and Bridge from one of my Japanese Garden shoots.
Please go vote and maybe I'll make the magazine.
Wednesday, 06 May 2009
I'm happy to announce that I'm showing my photography at the Stillwater Art Guild Gallery for May 2009. Further, the Stillwater Art Walk is May 15th from 4pm-9pm and May 16th from 11am-5pm. Check my shows page for details.
Wednesday, 12 November 2008
I've probably mentioned it once or twice before, but I have this photography site that I started last February. Well, with the help and encouragement of some very dear friends, I'm doing my first photo show! I'm so excited! Please click through, check out the details, and stop by!
Bring money. (grin)
Tuesday, 12 February 2008
I am unbelievably tickled to announce myTwinCities.net, my brand-spanking new photoblog. It's a place to showcase my photography from around the Twin Cities and maybe sell a print once in a while.
You may see one of the photos appear on myTwinCities and in the photo gallery on this site, but my intent is that this is a rare occurrence. For example, I'll keep the concert photography here.
How did I manage the domain name? Complete and unbridled luck. I was doing a little account maintenance at Network Solutions and just got it in my head to see if it was available. It took me a couple days to figure out what I was going to do with it, but after that it just sort of fell together.
The site runs on Pixelpost and the template is cobbled together from a couple that they had available for download. The purchasing code came from one of the several plugins I ended up installing.
Gotta say, I really do like Pixelpost. If you want to run a photoblog, you could do worse.