Wednesday, 14 April 2010
Last time we talked about cover songs that were loving reproductions of the originals. Whether you see them as tributes or knock-offs, the power of a good cover is undeniable. In this part we'll delve into covers that are total renovations, for better or worse, of the versions done by their original artists. Second in my three part series on cover songs.
Total Renovations
As the name implies, total renovations are when the coverer makes the song completely their own. It's possible you may recognize the song but only just barely, often because the melody is the only thing left in tact with everything else having been reworked. The typical reaction is "Hey, isn't this…?"
My first offering is quite possibly the weirdest cover in the renovation class: New York electro/glam group Scissor Sisters' disco version of "Comfortably Numb" (original by Pink Floyd.) You might say that Pink Floyd covered one or two of their own songs. Not that the radio version of "Another Brick In the Wall" is a happy-go-lucky little tune, but it's decidedly more upbeat than what was in the movie (The Wall). However they never went disco and the Scissor Sisters rendition is every bit as bizarre as you might think, hence the special fondness for it.
There's an amazing version of NWA's "Straight Outta Compton" done by Nina Gordon. It bears but a passing resemblance to the original, and that's only because they're the same words. But that's where the similarity ends. Gordon turns it into a totally different song. The lead-in gives it a pretty, almost sing-song vibe; then she lays into the first line "Straight outta Compton, crazy motherf*!#er named Ice Cube." Not at all what you'd expect. There was a time when I could recite the lyrics, learned exclusively from her version.
Two songs come to mind as the epitome of the total renovation type of cover. They are both stunning, practically hallowed in their ability to transform the originals into something new, into things of beauty.
First would have to be Johnny Cash's version of "Hurt" from his album American IV: The Man Comes Around (the original was released as a single by Nine Inch Nails.) Overall Cash's rendition uses the lyrics straight-up from the radio version with one notable exception: "crown of shit" is changed to "crown of thorns," but otherwise it's right on.
Where the Nine In Nails original comes across as somewhat angry about the state of the world and frustrated , Cash's is more remorseful about where his life has been and the video for the song only seems to reinforce the feeling of regret and sorrow. NIN's front-man Trent Reznor has said "…that song isn't mine any more…" in reaction to Cash's remake and the corresponding video.
You wouldn't normally consider a song of heartache and regret in the cover, or of outrage and fury in the original, to be things of beauty. Listen to both versions back to back. Compare them for yourself. Knowing what we do of Cash's life, just listening to it, concentrating on the words, is enough to make you cry. May we never know such sorrow in our own lives.
American IV also has a remake of Depeche Mode's "Personal Jesus" that's pretty spectacular too, although it's closer to the original than "Hurt." That's mostly due to the twang guitar in Depeche Mode's version that Cash replicates, to a degree, in his.
My second example that embodies the total renovation cover is "Hallelujah" by Jeff Buckley. The Leonard Cohen original was less sung and performed more in a murmur; hebetudinous, somewhat dispassionate, almost impersonal. Conversely Buckley created what many consider the definitive version. He took the song to new heights, creating a rendition that was at the same time sorrowful and a celebration of sexual release.
"Hallelujah" has been covered by more than 200 artists including Rufus Wainwright, Brandi Carlile, Willie Nelson, Justin Timberlake, John Cale, k. d. lang, and Bob Dylan. Cohen himself has said that there are many different hallelujahs depending upon the performer. But out of all those versions, by all of those artists, it is still the Jeff Buckley interpretation that stands out. His cover is, in my mind, the perfect song. It may as well have been the entire reason the music business came into existence.
Long time favorite band Tears for Fears released the song "Mad World" in 1982. It was originally intended as a B-side for their second single, "Pale Shelter," but was held back to release on it's own. It proved to be their first international single, although it didn't really chart in the U.S.
Some 20 years later Gary Jules and Michael Andrews recorded a version for the Donnie Darko soundtrack. Their recording gained a cult following that prompted them to release it as a proper single in 2003 that became a runaway hit. Where the Tears for Fears original was a steady-moving synth-pop song that expresses a certain frustration with a world as seen through teenage eyes, the Jules/Andrews remake was rendered bare with just piano, cello, and the vocals comes off as somewhat languid, almost despondent. The song received a second or third wind when it was featured during the 2008 season of American Idol.
I am somewhat torn between the two seemingly disparate versions of "Mad World," never quite knowing what to make of either of them. It seems that whenever one version comes on, I feel as though the other is what I'd rather listen to at the time.
Some cover songs can come from the most surprising places.
Take, for example, "Blinded by the Light." Originally written in 1973 by Bruce Springsteen, it appeared on his debut album Greetings from Asbury Park N.J. Unfortunately, the song pretty much went nowhere. The Boss's version is a pretty straight up rock-n-roll tune that sounds exactly like you'd expect an early Bruce Springsteen song.
That's right – the Manfred Mann version that everyone knows is actually a cover. The 1977 remake starts with the chorus, then goes pretty much straight through the song, but is augmented by a lengthy bridge and significant keyboard part. Listening to them both, side by side, I'll take the Manfred Mann version any day – sorry Boss.
Special mention goes to the Puppini Sisters, whom are best described as a modern-day Andrews Sisters. They even do a spot-on rendition of "Boogie Woogie Bugle Boy." Their first album contains versions of "Jeepers Creepers," "Mr. Sandman," and "Sisters;" all of which are practically required for a close-harmony group. You would think that puts them solidly in the loving reproduction class, but that's not what draws me to them. Their retro arrangements of more modern songs such as "Panic" (The Smiths), "I Will Survive" (Gloria Gaynor – wow!), and, my favorite, "Heart of Glass" (Blondie) are truly amazing.
In the third and final installment we'll dig into songwriters and composers, standards, a couple revivalists, and what makes a good cover song.
Wednesday, 07 April 2010
I'm about to confess a dirty little secret that may damage my credibility as a semi-professional music appreciator — self-proclaimed though it may be — but I'm tired of hiding it. I love a good cover song. Heck, who am I kidding? They don't even have to be good. As long as they are unique or interesting in some way, I can't resist them.
What is a cover song? A cover song, or cover version, is a new recording or performance of a song that was released previously recorded and commercially released by someone else. Simply put, a cover song is a remake.
The term cover song was originally coined, likely as a pejorative, in reaction to record label practices at the time. In an attempt to cash in on another label's success, some companies would hire their own band to create a sound-alike version. They would even resort to deceptive packaging to make people think they were getting the real thing and not some cheap knock-off.
But I believe that cover songs have grown beyond their questionable, even seedy, beginnings. Judge not a cover song simply because it mimics another, but give it room to grow, to come into its own. Modern covers should be looked upon as tributes to the original songs or artists, worthy of consideration in their own right.
Fundamentally there are two varieties of cover songs: loving reproductions and total renovations. Each type has it's own appeal and I have several favorites in both groups. In this series I'll cover those two types and offer some observations on what makes a good cover song, as well as songs that have arguably become standards.
Loving Reproductions
In the realm of cover songs, loving reproductions are where the coverer (the band doing the new rendition) makes their version sound as much like the original (the coveree's) as they can.
Obviously there are allowances for male vs. female singers and slight changes in instrumentation, but the point in loving reproductions is that the new version identifies strongly with the original. You're meant to immediately recognize it. You may even think you're listening to the original until you finally decide that it doesn't sound quite right.
First up is Massive Attack's "Teardrop," which was covered by José González. The two versions are nearly identical. Same beat. Same tempo. Same words. Even González's voice seems to mimic Elizabeth Frasier's (formerly with Cocteau Twins) from the Massive Attack original. It's as though González did a stripped down, acoustic rendition of the song. Something thing I find interesting: other artists have done covers of the José González version, notably Newton Faulkner – sparse yet quite lovely – and pop/jazz-pop singer Jamie Cullum, who sometimes does the song at his concerts. So are these covers of covers, or are they just similarly styled remakes of the original?
These next two are a bit interconnected. First is Shawn Colvin's rendition of "Crazy" by Gnarls Barkley and the second is Violent Femmes' "Gone Daddy Gone" reworked by Gnarls Barkley. Both stick fairly close to the original, overall, however they don't hold equal appeal to me. Colvin's stunning remake comes off as folksy, while the Gnarls Barkley cover is slightly tigher, but nearly note compared with the Femmes' original. Colvin did something with the song, where Gnarls Barkley phoned it in. Now, this could be that I listened to the Femmes' in high-school and somehow identify with it more and am resistant to seeing it messed with. I also have a thing for female singers in general and Shaun Colvin in particular.
At the risk of going a bit obscure, one my favorite female voices, Sia Furler, does a version of "Under the Milky Way" by The Church. It's nearly identical to the original, but with Sia's voice in place of Steve Kilby's. I like The Church. I like Sia. I love this cover. It could easily be another thing about voices, but I don't care. Next time she's in town I hope she'll do this song.
But why would anyone bother doing a cover if they're just going to copy the original? Why would anyone care to listen?
I think that sometimes we just want something different, but not too different. Like a fresh coat of paint that's the same color as before. A change of voice, a tweak in the arrangement, a new outlook on an old favorite.
Next time we'll make a break for it with total renovations.
Monday, 05 April 2010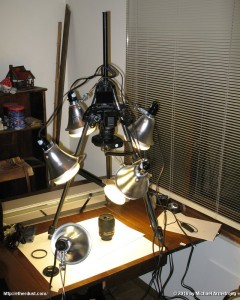 For some reason I got it in my head that this might be a good idea.
It's for an upcoming project that I'll explain later.
Looking at the results, as well as this setup, I think there's a better way. Probably not any less mad, but somehow better.