Thursday, 16 July 2009
I'm going to get this out of the way early: Abbey Road is not my choice for 1969. While it has some good songs ("Octopus's Garden," "Come Together," and "Maxwell's Silver Hammer;" it just doesn't strike me as strong of an album as some of their others. If you ask me, their best albums came out before I was born. 1968's the The White Album was great, with many memorable songs, but 1964's A Hard Day's Night has some of the sweetest, most touching tracks; "If I Fell," "And I Love Her," and "I'm Happy Just to Dance with You" being personal favorites.
It was also the last year they performed together in public.
But I'm not here to talk about the Beatles illustrious career, nor years past. I'm here to delve into the music of 1969 and my favorite album for the year.
Led Zeppelin's eponymous debut album was released; Vickie Jones was arrested after a concert performance where she did a spot-on impersonation of Aretha Franklin (DO NOT mess with the Queen); The Who's rock opera, Tommy made its debut; Chicago released their first album; Eric Burdon & War formed; Brian Jones died; Elvis Presley returns to live performance with shows in Vegas; the Jackson 5 make their album debut; Mott the Hoople, King Crimson, Black Sabbath, The Doobie Brothers, and Judas Priest all form. And if that isn't enough, we can't forget those three little days in August: Woodstock.
1969 gave us what was quite possibly the first super-group: Blind Faith. While you can't deny the potential in bringing Eric Clapton, Steve Winwood, and Ginger Baker together, their singular, self-titled album just doesn't have anything that truly stuck with me after hearing it. There's nothing there that I look back and think "I've got to hear that again."
Genesis released their first album, "From Genesis to Revelation" in 1969. Many regard their early work, while Peter Gabriel was in the band, their best work. However I think my favorite of theirs came later, in the Phil Collins years, even though I think Collins ruined the band in the end. Peter Gabriel did better work as a solo act, so Genesis doesn't get the nod this year.
The Jackson 5 released their first album, Diana Ross Presents the Jackson 5. It's got a couple good songs, but it was largely cover songs and was kind of a disappointment for me. ABC is a much better album, so I'll hold out for that.
I have to note Stand! by Sly and the Family Stone, if only for the songs "Everyday People" and "You Can Make It If You Try." Both classics and that I can never get enough of.
For me the best album of the year is In the Court of the Crimson King by King Crimson. It was their debut album, and is probably the strongest album ever to come out of the progressive rock genre. My favorite rock guitarist, Adrian Belew, didn't join King Crimson until later, but I won't hold that against the album.
All of that said, how can I pick a mere album, a single recording, as the most influential music event of 1969. Clearly that honor must go to Woodstock.
Surprised? Really?
Woodstock was, quite possibly, the single greatest concert event ever. With a lineup including Janis Joplin, CNSY, Jimi Hendrix, The Who, Creedence Clearwater Revival, Arlo Guthrie, Ravi Shankar, Joan Baez, Santana, Sly & the Family Stone, Johnny Winter (with Edgar!), Richie Havens, and the Grateful Dead, how can you go wrong? And that's only half of the bands that were there. Even Sha-Na-Na was there!
OK, so the Sha-Na-Na thing might be pushing it a tiny bit. <grin>
Even the list of who didn't show up is big: Jethro Tull (Ian Anderson didn't like hippies), The Doors (Jim Morrison didn't like large outdoor venues), Led Zeppelin (they didn't want to be "just another band" on the bill), Bob Dylan (his son was sick – and there were too many hippies outside his house), among others.
There was rain, skinny dipping, mud, storms, more nakedness, free love, and a couple songs thrown in for good measure.
The original plan was for 50,000 people on 300 acres, but the Wallkill town board declined to issue the necessary permits. A little finagling and they were able to rent 600 acres from Mr. Yasgur. Somewhere along the line it grew to nearly 200,000 people, but some 500,000 showed up. Half a million people!
For its time, the engineering requirements were off the charts. 16 loudspeaker arrays, some of which were over 6 feet tall and weighed more than a half-ton. 2000 amps coming from 3 generators behind the stage to power it all.
I could go on, but so many before me have done so much better. I don't know that anything will ever come close to those 3 days of peace, love, and music in the summer of '69.


Wednesday, 08 July 2009
Hello. My name is Michael and I'm a dork.
My friend Patrick has a great voice. Smooth, deep, like it was made for radio – maybe as the late night DJ for one of those booty-soul stations. It's a voice I can imitate, sort of, for short periods of time.
Occasionally I start to think my voice would be good for radio, but then I hear a recording, typically a voice mail greeting. I'm immediately reminded where it belongs: reading farm reports on some AM station that nobody listens to, 300 miles from anything.
A former girlfriend has this outstanding, not quite husky, but great to listen to voice. When she gets a cold she complains that it sounds like Lauren Bacall – as if that's a bad thing. It's a voice you'd like to hear reading naughty bed-time stories. H. O. T. HOT.
When I have a cold, I can do a great impersonation of James Brown, but just of the opening "Yeeoowww!" from "I Feel Good." That's it. That's all I've got; that and the farm reports.
While he doesn't have all that low a voice, my friend Hjalmer is fairly soft spoken. When he does speak up, his voice takes on a certain authoritative quality. This is best exemplified by his voice mail recording. "This is the voice mailbox of Hjalmer Duenow. He would be…(long pause)…oh so grateful if you would leave a detailed message…" It reminds me a bit of the MoviePhone guy.
Like most people, I've been known to sing in the car. When I'm alone. With the windows rolled up. And the radio fairly loud. But once in a while, instead of singing, I'll play with voices; practicing the low baritone of guys like Johnny Cash, Junior Brown, or Tom Brokaw.
So a couple weeks ago, driving someplace or another, I called Hjalmer and got his voice mail. Just for fun, I left a message in kind, imitating MoviePhone guy's (and Hjalmer's) presentation style.
And then I forgot to hang up.
A couple miles later, in the middle of a strange, extended riff that was a cross between MoviePhone and voice mail menus, I realized I was still connected to his voice mail. I croaked something, quickly hung up, then sent a text message imploring him to ignore my voice mail.
To Hjalmer's credit, he has been kind enough not to mention the incident.
However, much like getting caught singing in the car, (or forgetting you're in public when you launch into an extended air-guitar solo to the soundtrack that's running in your head – not that I've ever done such a thing), it's still mortifying. Quite possibly the most embarrassing thing I've done in quite a while.
Hello. My name is Michael. I'm 42 years old and I'm a monumental dork.
Wednesday, 10 June 2009
Importing some pictures from the past couple days, I happened across this happy accident:
I forgot the camera was in AEB (auto exposure bracket) mode, so it snapped three pictures when I made a test shot. On import, they just happened to line up so you get the top of my brother's head in the one frame, then his shoulders and back on the next row.
I know, not terribly interesting and kind of lame, but it's one of those things that make me chuckle every time.
Wednesday, 03 June 2009
with a Tweet from @gruber that said: "This photo seems ripe for a caption contest: http://is.gd/NiYa"
A quick Google search and a couple minutes with http://wigflip.com/saywhat/, we end up with: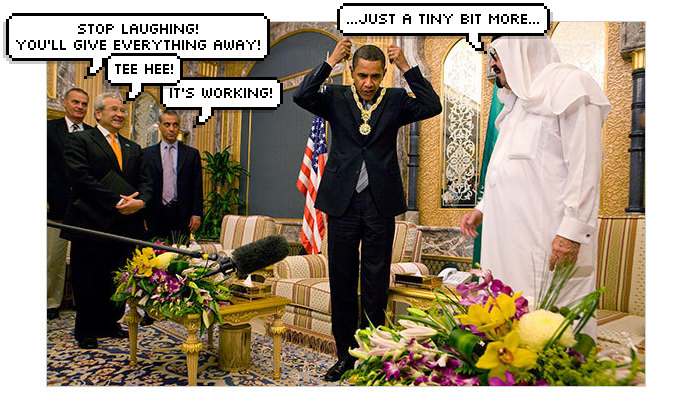 Does that make me a bad person?
Thursday, 28 May 2009
JPG Magazine went away for a while, but now they're back. It's a bit late in the submission process for issue 21, but I put one up anyway: Bentendo and Bridge from one of my Japanese Garden shoots.
Please go vote and maybe I'll make the magazine.
Wednesday, 06 May 2009
I'm happy to announce that I'm showing my photography at the Stillwater Art Guild Gallery for May 2009. Further, the Stillwater Art Walk is May 15th from 4pm-9pm and May 16th from 11am-5pm. Check my shows page for details.
Tuesday, 06 January 2009
It's been a while since I posted an installment of My Life In Music. Since I've been writing a lot of new stuff lately, and finishing up some old ones, I thought it was high time for the next chapter: 1968.
1968 brought us the formation of Yes, Rush, The Carpenters, Led Zeppelin. Warren Zevon also started his musical career that year, and we saw Janis Joplin start her solo career after parting ways with Big Brother & the Holding Company. The Monkees ended their TV run after 58 episodes, the Beatles formed their record company, Apple Corps, Ltd., Gibson Guitar patented the Flying V design,and the musical Hair launched on Broadway.
But we're here to talk about the music itself, not the comings and goings. And there's quite a bit to talk about.
Let's start with The Transformed Man by William Shatner. Yes, Capt. Kirk put out an album. It was a terrible mix of Shakespeare and pop lyrics. George Cloony once cited the album as a Desert Island Album — for its motivational qualities — "If you listen to [this song], you will hollow out your own leg and make a canoe out of it to get off this island."
1968 also brought Bookends by Simon and Garfunkle. Notable for the songs "A Hazy Shade of Winter," "At the Zoo," and the unforgettable "Mrs. Robinson."
Generally regarded as one of the greatest albums of all time, The White Album from the Beatles was released that year. And who could argue? Beatles classics like "Back in the U.S.S.R.," "Dear Prudence," "Ob-La-Di, Ob-La-Da," "While My Guitar Gently Weeps," "Rocky Raccoon," "Martha My Dear, " "Blackbird," "Julia," "Birthday," and "Helter Skelter" were all on this one. That's a ton of great songs, many of which are my favorite Beatles tunes. Yet it's still not my top pick for 1968.
Now, you might think I'm about to call out Johnny Cash's At Folsom Prison as my choice for 1968 Album of the Year, and with good reason. The album, recorded at Folsom Prison (funny how that works), is quite possibly the best of Cash's career. The title song, although recorded for an earlier release, leads off this one, and the album includes Cash's well known renditions of a couple songs "Jackson" and "Orange Blossom Special."
But, alas, no.
For me it's Switched-On Bach by Wendy Carlos (Walter, at the time). S-OB, as the title implies, contains a selection of J. S. Bach compositions performed entirely on a Moog synthesizer. While they are fairly common by today's standards, it was a pretty rare thing in 1968. Even for one song. Even as a background instrument for a single song. To record a whole album, where it's the only instrument, it was completely unheard of. Yet there it is.
S-OB was reviled by some, but others were excited by the virtuosity in the work and recognized it for how groundbreaking it was. The album sold far better than anyone expected, and spawned a rash of synth albums — many just copycat renditions of redone classical works.
You have to give Switched-On Bach, and Wendy Carlos, a lot of credit. If it hadn't been for Carlos and this single album, I don't know that we'd have any electronic music today. You simply can't deny the influence of a single work from which an entire musical genre is born.